Pedestrian walkway of Alvor, mandatory when visiting Alvor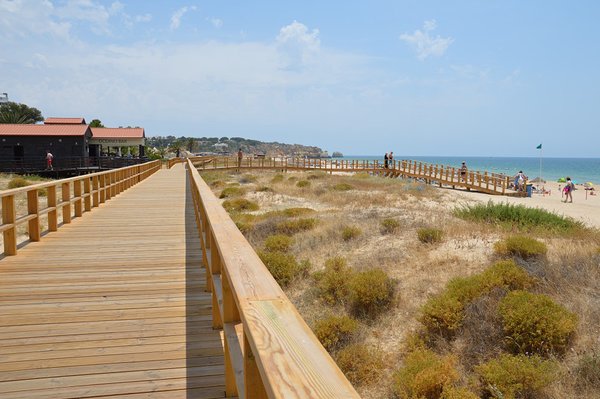 The pedestrian walkway of Alvor, with a length of six kilometers, connects Praia dos Três Irmãos to Ria de Alvor.
The pedestrian walkway of Alvor, is one of the largest footbridges in the country, links the estuary of the Alvor river to the sea in an idyllic landscape.
On an afternoon of autumn, spring or a summer day walking through this pedestrian walkway is almost mandatory when visiting Alvor, located near Portimão.
The walkway has a height of about one meter, being ideal for a morning jog or for a family outing at the end of the day. You can also do this with your bike.
The Alvor Passadiços has a length of six kilometers (almost 4 miles) and connects the Três Irmãos beach to the Alvor river along the dunes and the river.
Walking on this walkway is easy because it's in flat terrain and can be done all year but during the spring or summer you can enjoy excellent waters of the adjacent beaches.
It is the ideal place to walk, run or cycle and enjoy this "oasis of nature" through a wooden structure but can also be done in well-marked paths.
Alvor is close to Portimão city, Praia da Rocha and Praia do Vau, being one of the most tourist areas of the Algarve but if you are staying in one of these locations near Alvor it will not be difficult to reach Alvor beach.
I may don't know but Alvor offer you a scenery that's so gentle, serene and cosy and the Alvor estuary is such a treasured stretch of the Algarvian coastline, a protected natural haven that contains a wide array of habitats, including vast sand dunes, ancient salt pans, traditional farmland, and thriving salt and freshwater marshes.
This is a great walk for everyone and is beautiful anytime of the day or year, and it is the type of walk that can be as long or as short as you like. The boardwalk is suitable for children's buggies, wheelchair users, and those with reduced mobility, and it is easily accessible from the parking area.
And don't forget this tip: if you visit Alvor on a Sunday, check out the market by the harbour (open all year round) selling a great range of fresh local produce.
We do private transfers between Faro Airport and Alvor from € 75.
Book here!